About Us and What Seperates Us
All Natural, High Quality, Full-Spectrum, Tinctures and Salves!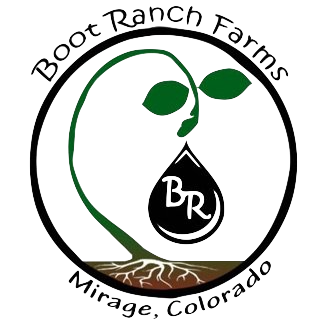 To tell you about Boot Ranch Farms, we also have to tell you what separates us from everyone else:
The Farm
We are a small owner-operated off-grid farm in the San Luis Valley using Solar Power and Artesian Water for our grow. All our hemp is grown in pots and greenhouses for maximum quality control. We use "The Bomb" soil from Paonia Soil Company which is the most advanced, complete, fully natural and organic soil made. We use beneficial insects and over 20,000 species of beneficial microorganisms for insect control, disease control and plant health. Our genetics are based from the "Cherry" and "Wife" hemp strains which are among the highest quality terpene profile and full spectrum CBD produced in the industry.
Processing / Extraction
All our flower is slow dried in a controlled environment to maintain CBD and Terpene quality. High grade, low temp, closed-loop alcohol extraction is used for hemp flower oil processing. We leave a small amount of beneficial organic material in our oils to create a full entourage effect of the hemp flower for maximum medicinal quality.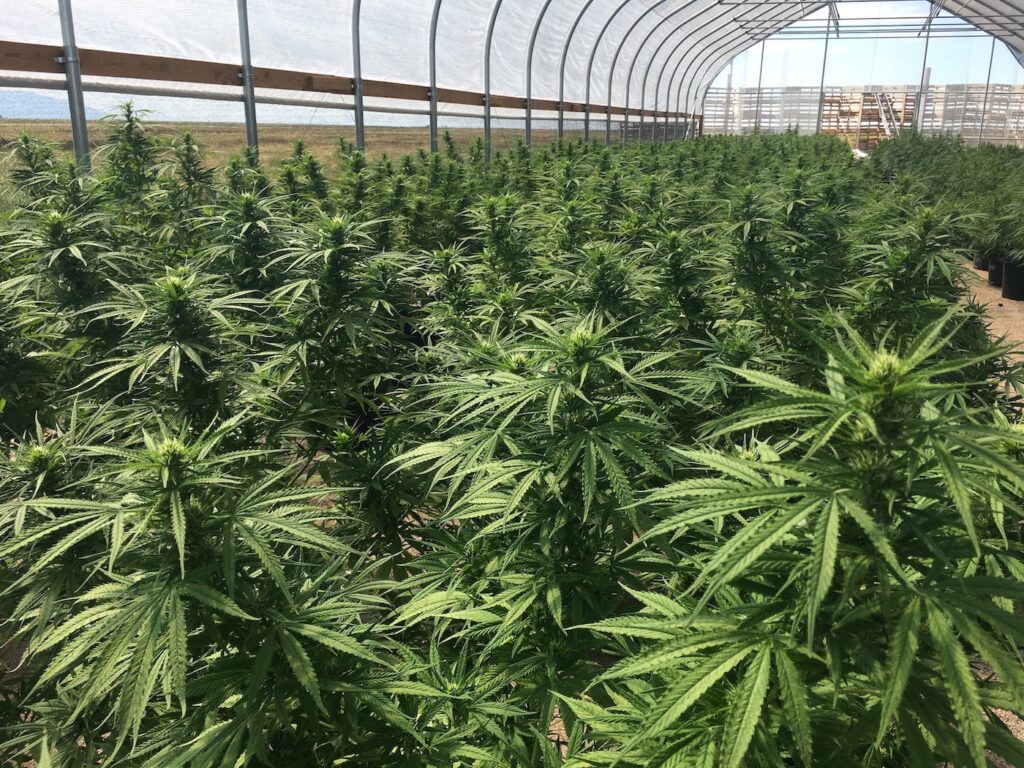 Why The Entourage Effect (the whole plant)?
It has been found that CBD by itself is relatively weak. By maintaining the natural terpenoids and secondary cannabinoids in the hemp flower oil (Full Spectrum CBD Oil), a much higher quality and long-term medicinal effect is created.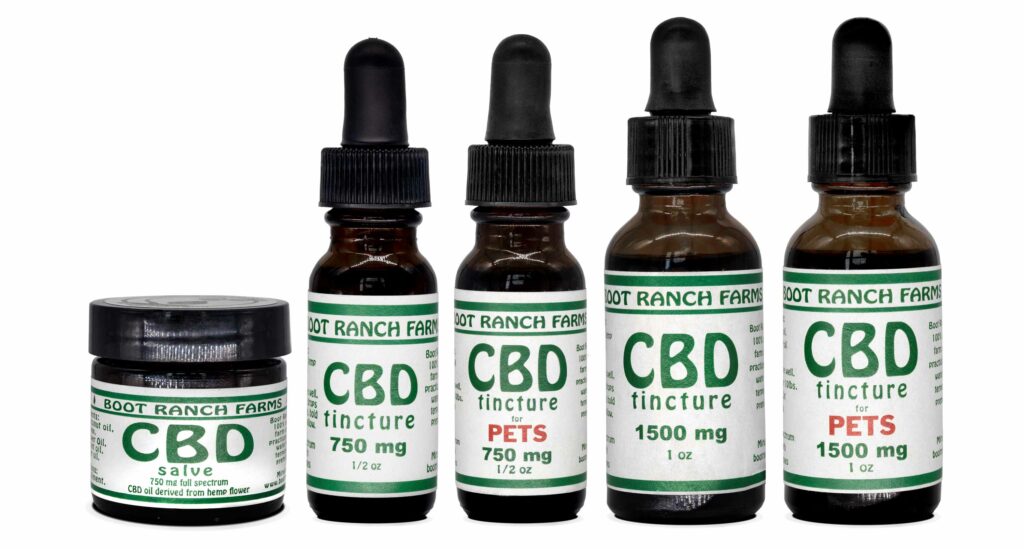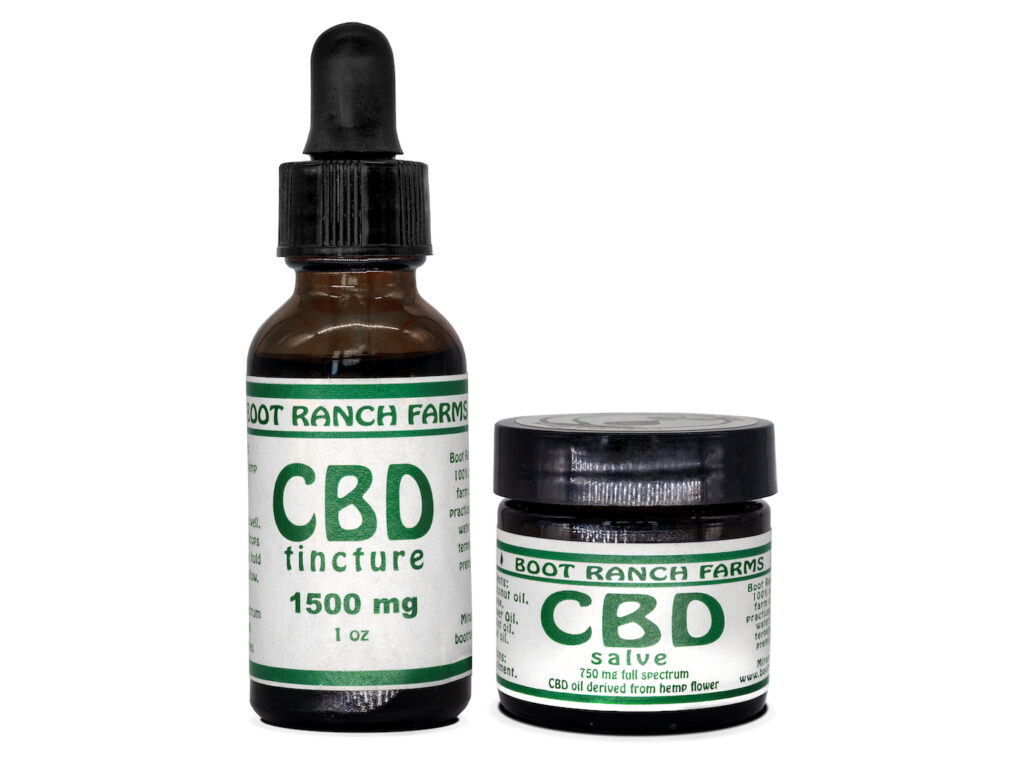 Product Line
Boot Ranch Farms tincture & salves are formulated with simple and all natural ingredients. Our hemp flower oils are only partially decarboxolized to maintain a high CBDA content which is extremely beneficial for many deep-rooted issues such as arthritis. As a Full-Spectrum Oil, our products also contain: CBD; CBC; CBG; CBN; etc. We believe in simplicity and legitimacy which our products provide.
-Tincture Ingredients Grapeseed Oil, Full Spectrum Hemp Flower Oil (in all of our tinctures)
-Salve Ingredients Olive Oil, Coconut Oil, Beeswax, Full Spectrum Hemp Flower Oil, Peppermint Oil, Lavender Oil (1 oz)
–Why we use grapeseed oil: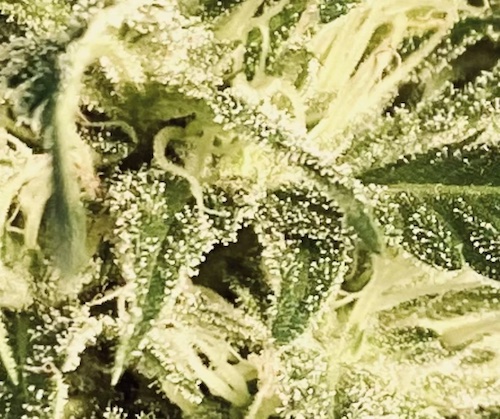 Freshness and Consistency
At Boot Ranch Farms we make quality, consistency, and freshness the highest priority. We make our product in small batches to ensure the product you order is always fresh. Although CBD oil doesn't go bad, carrier oils do have a shelf life, depending upon the oil that is used. Boot Ranch Farms works diligently to maintain consistency from bottle to bottle and batch to batch. We want the premium product you purchase from us today, to be the exact same as the one you buy 5 years from now.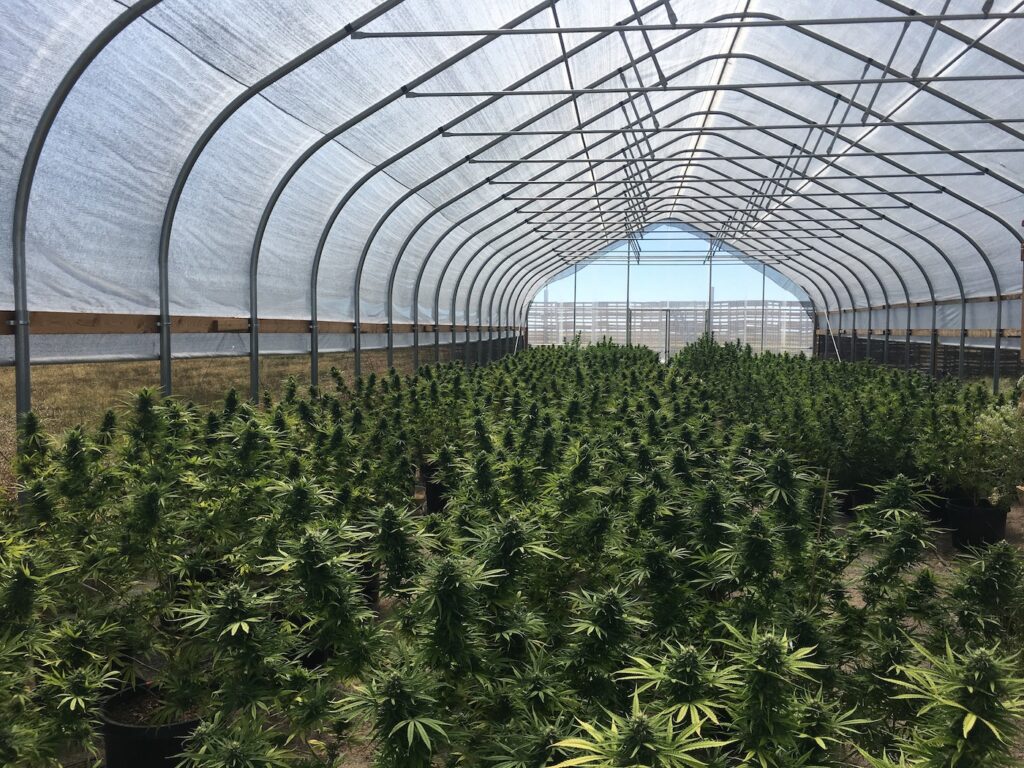 Master Grower
To craft a product with the quality that Boot Ranch Farms produces, it not only takes beautiful surroundings, but also a master grower. Our master grower not only takes pride in the fact that he produces the finest CBD but also understands the science involved in growing the highest quality hemp. Boot Ranch Farms is where CBD comes from. Our all-natural, full spectrum CBD is not only the finest quality CBD you can purchase for yourself, but also your pets!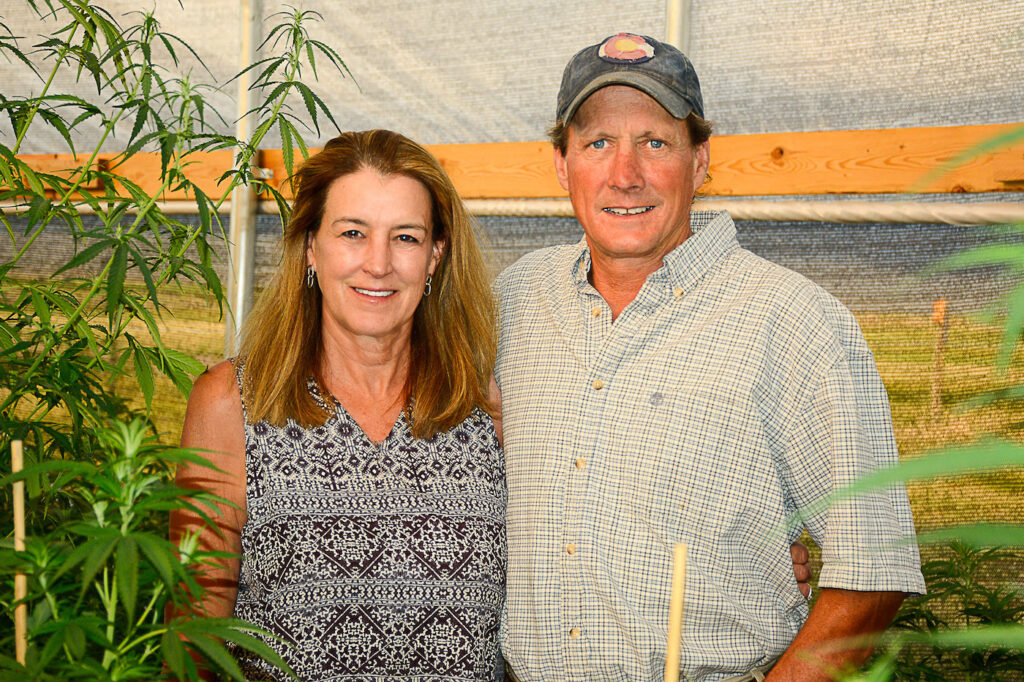 Meet the owners of Boot Ranch Farms: Tim and Deb
"When we finally made the decision to begin growing Hemp, we made the absolute commitment to make only the very finest quality CBD oils anywhere. Our customers would always know they are getting only the best CBD products available. Above all our top priority is to provide our customers with the absolute best hemp products possible. We use love, care, and attention to detail to ensure our CBD is all natural.
With Boot Ranch Farms you are getting the very best CBD around!"
CBDA
By using the low temperature, closed loop, alcohol extraction process and not fully decarboxylating our oil. By using lower temperatures while making the final product, we keep the CBDA and CBD ratio as close to 50/50 as possible.
Our master grower is committed to maintaining the CBDA levels in our product. Boot Ranch Farms has always believed
it is a major factor in effectiveness.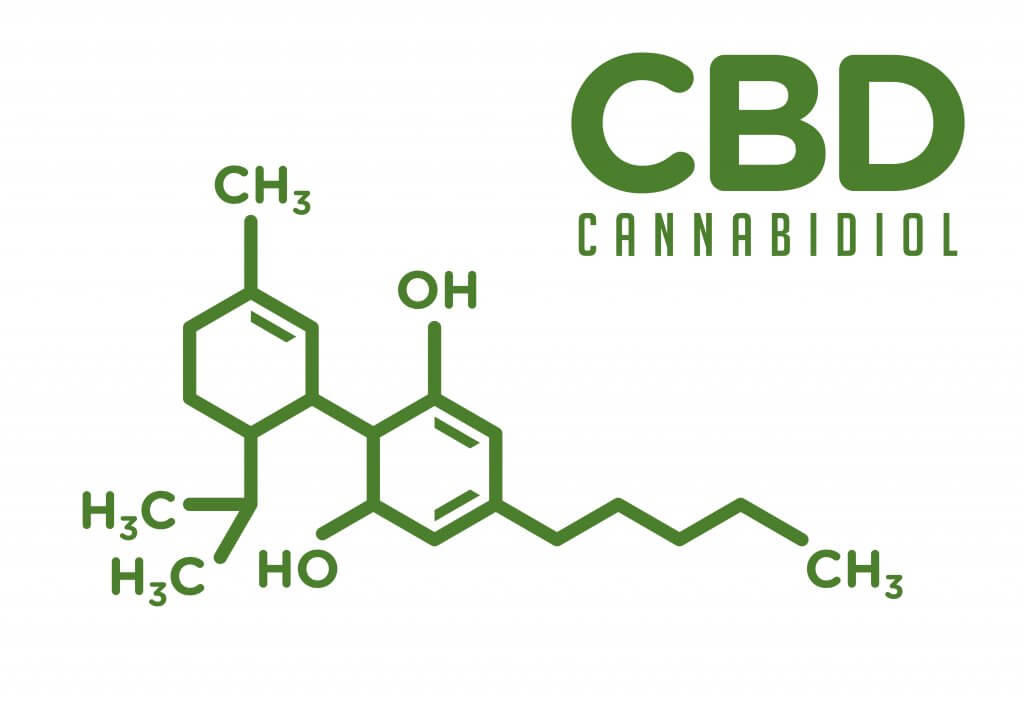 Science
When you understand the science and are willing to put in time, dedication, and hard-work, the results are high- quality, healthy plants!
Many want more than just CBD in their products. So, by maintaining the natural terpenoids and secondary cannabinoids in the hemp flower oil (Full Spectrum CBD Oil), a much broader quality and significantly more natural product is created.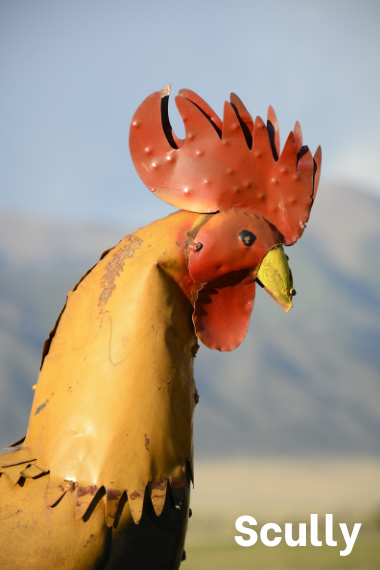 At Boot Ranch Farms we only use all natural ingredients, making your safety and well-being our first priority!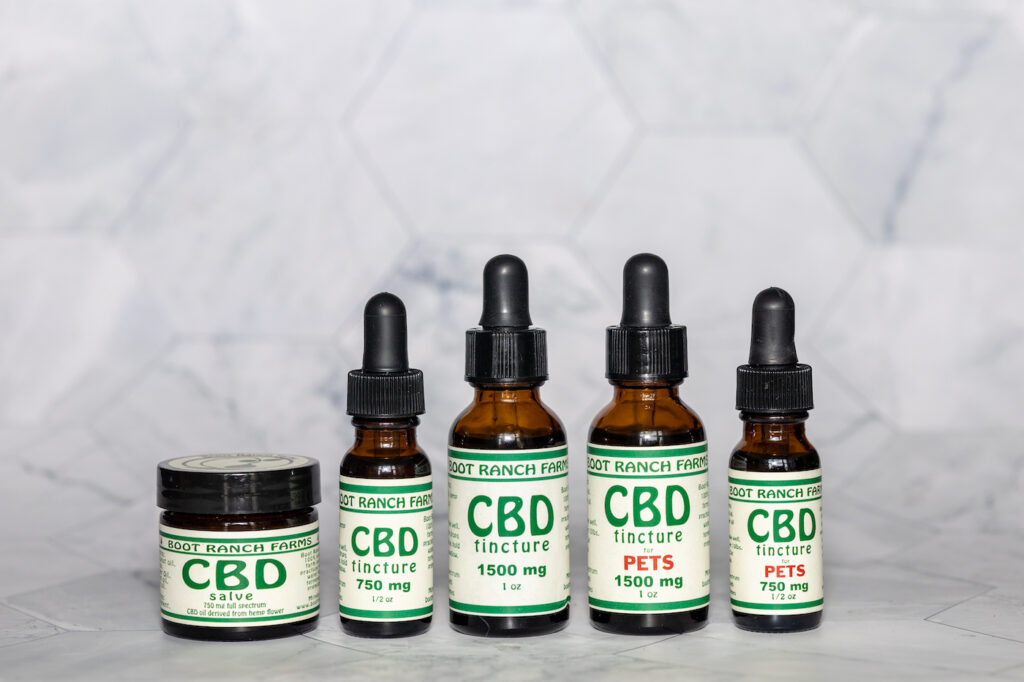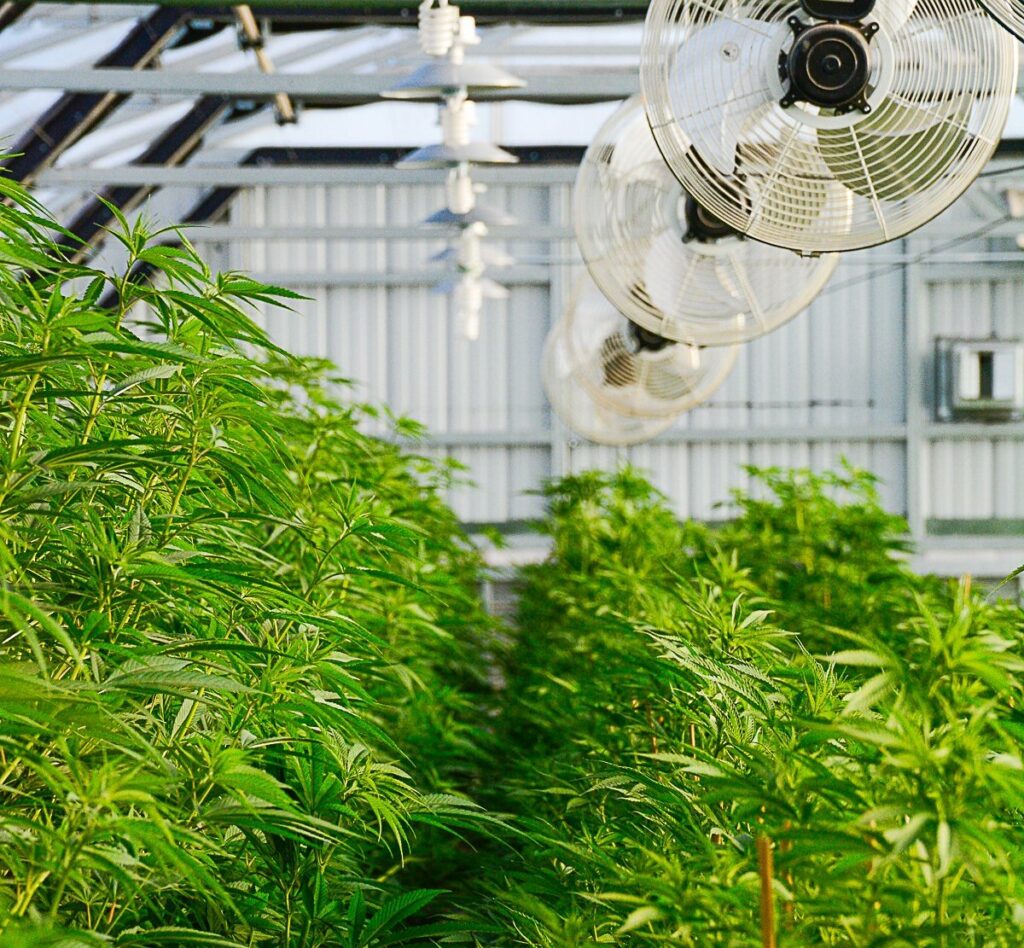 Premium Strains
Our genetics are based from the "Cherry" and "Wife" Hemp strains which are among the highest quality terpene profile and Full Spectrum CBD production in the industry.
Hemp Flower Vs. Hemp Seed Oil

Hemp Flower Oil or "CBD Oil" is extracted from the Hemp Flower. This is the oil Boot Ranch Farms uses in all our products.
Hemp Seed Oil is pressed from the Hemp Seed. It is high in complex B vitamins, but does not contain CBD. Don't be fooled by companies claiming hemp seed oil as part or all of the volumes of CBD oil in their products
Note: Many companies use CBD "Isolate" in their products which strip many of the beneficial compounds and elements to make oils of nearly 100% or "pure CBD." This inferior product is mainly made so hemp oil wholesalers can provide companies who do not farm their own hemp a consistent oil no matter where or how it is grown and processed. Research has found when using CBD for long term medicinal reasons, a full-spectrum oil with the natural terpenes of the hemp plant performs exponentially greater than a CBD isolate. Boot Ranch Farms only uses the highest quality, full-spectrum CBD oils (whole plant extract) in all our products. We never use Isolates!
Thank you for supporting our family owned, Colorado Hemp Farm!